Expert Articles & Advice
December 1, 2013
If you're ever going to need a guest room, the Holidays would most likely be the time. As family and friends travel to be with each other during this time of year, what could be more welcoming than a thoughtfully prepared guest room?
November 15, 2013
When it comes to energy use in your home, only the kitchen rivals the bathroom. If your home has more than one bathroom, the energy use can increase even more. Large amounts of heat, water and lighting are used in the bathroom every day, by every member of the household.
Special Offers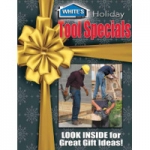 Click here to see our Holiday Tool Specials!
Valid 12/01 - 12/31/2013